Myanmar real estate news
Low-cost flippers face blacklisting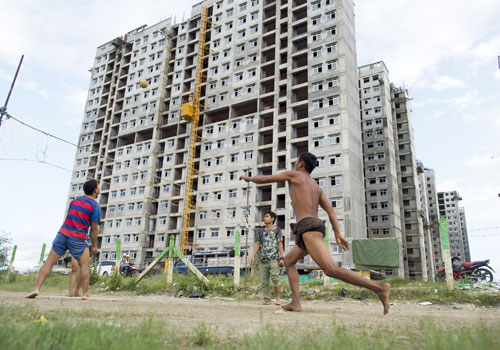 People caught buying and re-selling low-cost government housing for profit will be blacklisted, according to an official from the state-supported Construction and Housing Development Bank (CHDB).

Government low-cost housing is aimed specifically at low-income people struggling to afford an apartment. But some people who successfully apply for low-cost housing then rent out or sell the property.

Daw Myint Myint Mu, deputy managing director of CHDB, which is partly owned by the Ministry of Construction, told The Myanmar Times on November 23 that the bank would check that the people it helps purchase government-built low-cost housing are actually living in the apartment.

"If the person buys the apartment to re-sell it they will be put on the blacklist," she said. "Then if they try to buy low-cost housing again they will not be eligible to apply. Government low-cost housing apartments can't be resold or rented out; they are intended for people who really need housing."

People looking to buy and re-sell cheap apartments need to stick to the private market, she added.

CHDB and the Department of Human Settlement and Housing Development under the Ministry of Construction will investigate buyers of low-cost housing, she said. The bank will also take note of anyone purchasing a low-cost apartment using banks loans, she added.

Bank loans typically have stringent collateral and income requirements that put them beyond the reach of lower-income home buyers.

According to rules laid down by the Department of Urban and Housing Development (DUHD) – also under the construction ministry – people applying for government low-cost housing must sign a statement promising they do not own an apartment already.

Rule breakers will have the low-cost apartment taken away and are liable for a fine equal to 5 percent of the apartment's purchase price.

Buyers are also prevented from selling or transferring their low-cost apartment for the first five years of residency. Once the initial five-year period is over, any sales must be conducted at prices set by the DUHD.

"We will analyse [the situation] to make sure the housing rules and regulations are being followed because we want these apartments to go to people that are really facing difficulties [with housing]," DUHD director general U Min Htain said yesterday. "We have already announced the official rules and regulations."

Translation by San Layy and Win Thaw Tar



 
Quoted from mmtimes.